By Yilin Yao | Staff Writer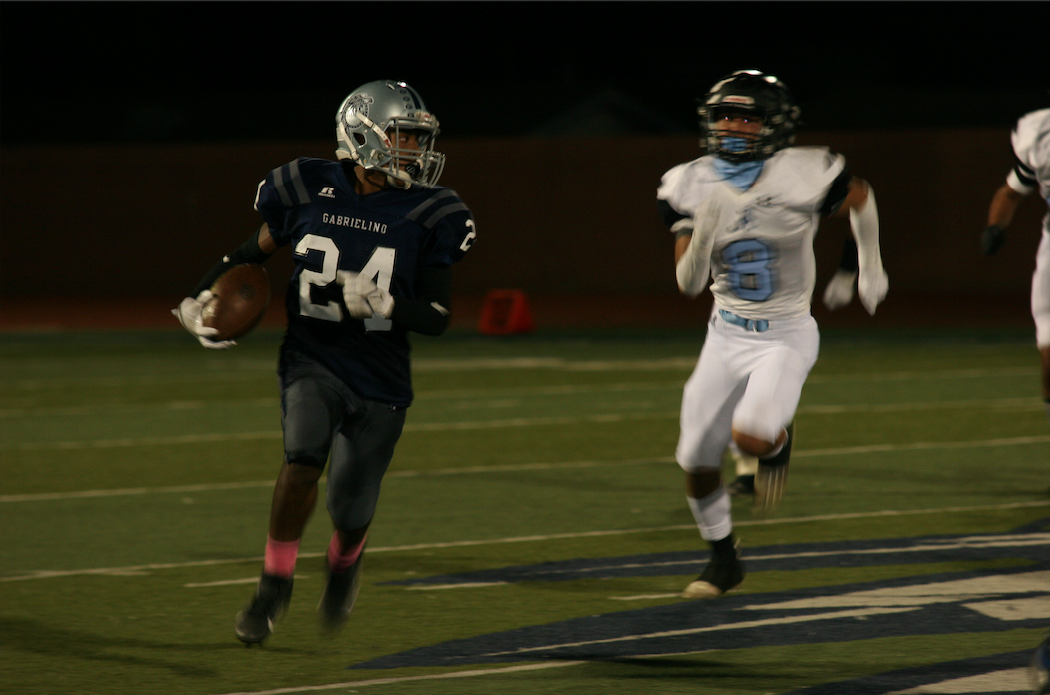 On Oct. 21, the Gabrielino High School football team lost against Arroyo High School in the Homecoming game, 54-0.
At the start of the game, as the football team ran out of the stadium's tunnel, cheerleaders greeted them with slogans and their family and fans welcomed them with applause. While warming up, players talked to their coaches, trying to shake off their nervousness and also trying to get advice from them.
"[The] opponent is the undefeated and reigning Mission Valley Champions Arroyo," said Coach Kevin Lawrence, a varsity offense line game coordinator.
Although Gabrielino's opponents had an undefeated record, freshmen varsity player Matthew Tang "believed that [the] team [could] pull off a win."
Senior Brandon Chai, the captain and quarterback of the football team, was also not worried about the game. "I believe in each other and [the] coaching staff," he said.
In the first quarter, the Knights scored one two point pass, one made point after, and three touchdown passes, leaving the score with 22-0 at the end of the first quarter.
During the second quarter, Arroyo scored one rushing touchdown, two made points after, followed by three touchdowns, causing Gabrelino to lose without a point on the board. Despite the loss, the coaches were still proud of their team.
"I know my teammates did the best they could to keep pushing and fighting till the end whistle," stated Chai. He also hoped to "achieve our goals as one whole team and family" by the next game.
Although the Eagles lost the Homecoming game, they pulled out a victory in their previous game against Mountain View on Oct. 15, where they made a comeback from 14-0 to 22-27.
"We won in the last 3 minutes of the game due to a toss-pass trick play which I implemented. Of course, the credit goes to the players who execute it but it is always cool to see a play design succeed," stated Lawrence.
In the Eagles game against Rosemead High School on Oct. 8, they lost by 61 points, leaving the score with 77-6.
The football team went on a winning streak in its games against South El Monte High School on Oct. 1, Mark Keppel High School on Sept. 17, and Bosco Tech High School on Sept. 11. Although they lost against San Gabriel High School during their second game on Sept. 27, they won against Glendale High School in their first game of the season on Sept. 20.