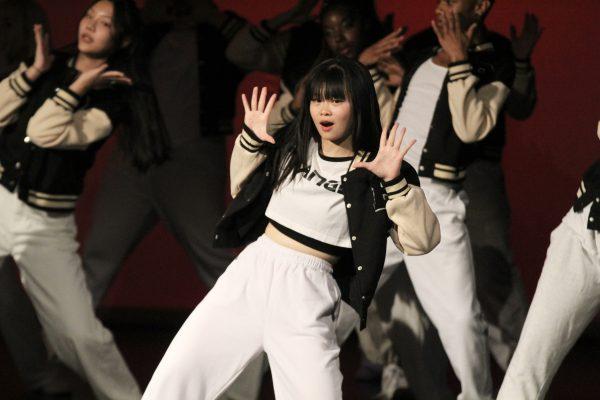 By Jordan Liu | Copy Editor
   On May 16, the Gabrielino dance class held its Spring Dance Concert at the Goodson Theater. Through six dance performances, students got to display the routines that they had learned throughout the year. 
   The Spring Concert was only the second opportunity the class, taught by Marco Tacandong, got this school year to showcase their routines, expanding on the shorter program that they performed at Open House in March. The showcase featured contemporary and hip-hop style performances from the two different Dance 1 periods, Period 5 and Period 6. 
   The showcase kicked off with a performance of Disclosure's "Latch" done by Period 6. Wearing clean and flowing white outfits, the students displayed a graceful contemporary routine.
   "Latch" was followed by another contemporary performance of "Mountains" by Charlotte Day Wilson. Although there were technical errors mid-performance, with the song audio stopping and restarting multiple times, all the students showed professionalism and smoothly recovered, delivering an engaging performance.
   "With the music situation during Mountains, it was definitely unexpected," stated senior Robyn Kho. "But everyone handled it very well, and we did not let it hold us back in showcasing what we've been working on." 
  After "Mountains", a smaller unit of five students danced to XG's "Shooting Star". In addition to performing the piece, seniors Emily Lu and Sammi Luo and freshman Tracy Tran all contributed to the choreography.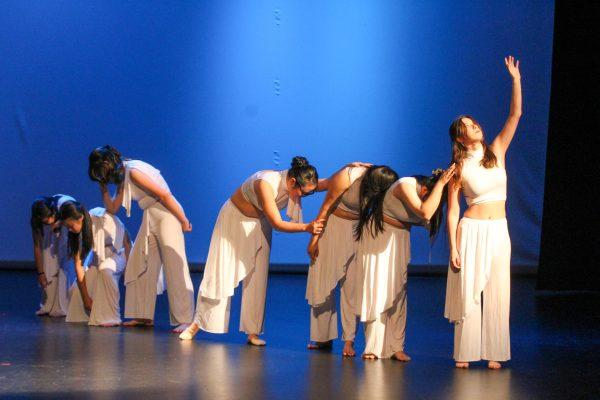 "We just experimented with different movements," said Luo. "For some parts of the song we kind of got different vibes, to maybe add in bodyrolls or other moves."
   Each period then gave separate hip-hop performances, creating a high-energy atmosphere. The students from Period 5, decked in matching letterman jackets, hyped the audience up to pop hits in the "Moment 4 Life" medley, and students from Period 6 showed clean footwork during the "Hit Different" medley. 
   "My favorite part in the 'Moment 4 Life' performance would probably be during the Swalla portion of the performance," said senior Andy Banh. "We had a guest choreographer come in and teach this specific piece and […] it was a whole new experience for all of us learning and it was extremely fun as it was a whole different style we all liked."
   As the teams stood on stage, waiting for the music to start, audience members shouted out students' names and messages of encouragement, cheering them on. 
   "We did not expect to see a lot of people and I think the crowd's overall support was a necessary factor," stated Banh. "I personally felt very happy and encouraged, especially when people were simply shouting my name."
   The show closed with both periods coming together to perform a mashup of Bruno Mars songs, ending the night on a joyous high. As Earth, Wind, & Fire's "September" played, all the dancers and Tacandong took a bow to the sound of applause and cheers from the audience.  
   For all the performers, the concert was the successful culmination of hours of practicing during class, Embedded Time, and even after school. The quick outfit changes, dramatic lighting, and passionate performances from the students made the show an engaging experience for all those watching. 
   "I was proud to see students who came out of their comfort zone," said Tacandong. "It was amazing to see the growth!"