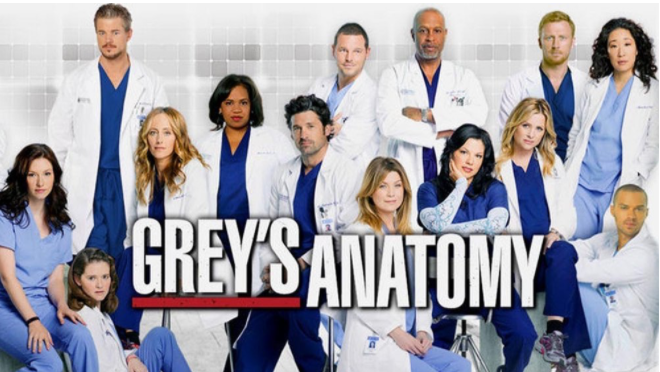 Art courtesy of ABC 
By Raymond Tran
4.5/5 Stars
    Most people dream of being a doctor at some point in their life. From saving a random civilian in an emergency situation to cashing in a fat check at the end of the day, working in the medical field seems to be appealing to many, in theory. Shonda Rhimes' award-winning TV series "Grey's Anatomy" follows Dr. Meredith Grey (Ellen Pompeo) through her journey of being a surgical intern. This show highlights the struggles of balancing a medical career and one's personal life through its usage of both drama and comedy. 
   Rhimes utilizes Grey's voice over at the beginning of each episode, which she ties back at the end to convey an overarching message. Themes covered throughout the show teach the audience lessons about loyalty, resilience, compassion, and strength through the adventures of Dr. Grey and her colleagues. 
   Having a female lead that balances family life and her professional career highlights the duality of women's lives, giving the series a powerful feminist tone. 
   I was especially intrigued by Grey and her best friend Cristina Yang. Although they were both dedicated to their careers, battling misogyny and the patriarchy was not a foriegn fight. Throughout the series, Yang and Grey remind each other that they are able to find success even without a man by their side.
   "Don't let what he wants eclipse what you need," Yang once said, "He is very dreamy, but he is not the sun. You are."
   The medical mysteries coupled with real life issues makes the show incaptivating and emotional. The perfect mix of comedy, romance, and drama allows for the audience to fall in love with the characters and make personal connections with their relatable storylines.
   Personally, I feel that seasons 4-8 was when the show was at its prime. However, the series continues to surprise me with intriguing plotlines and has kept me watching through the 16 seasons, due in part to my personal investment in these characters. Their losses became my own. I cried with them, laughed with them, and even got angry at them. While watching the show, I felt as though their experiences were my own, translating the lessons learned into my life. 
   Although longevity of the show allows for the characters to become fully developed, many characters have come and gone from the show. The sudden and heartbreaking deaths and departures of major characters definitely took an emotional toll on me. Unfortunately, I found that as I got farther along in the show, it began to be difficult to make the same connections to new characters as I made with those who left.
   Nevertheless, I would highly recommend this show for anyone looking for a series to binge during this quarantine period. The medical marvels performed by these surgeons provides an effective outlet to escape from our current pandemic. 
  Aside from "Grey's" numerous Emmy nominations and awards, on Feb. 27, 2019, the show made history by being the longest lasting medical drama to ever air. With 356 episodes at the end of season 16, the show surpassed "ER," which had 331 episodes. 
   All 16 seasons of "Grey's Anatomy" are available to stream on Netflix and Hulu, as well as on ABC. The show has been renewed for season 17 with an unannounced premiere date.