By Tyler Dang | Staff Writer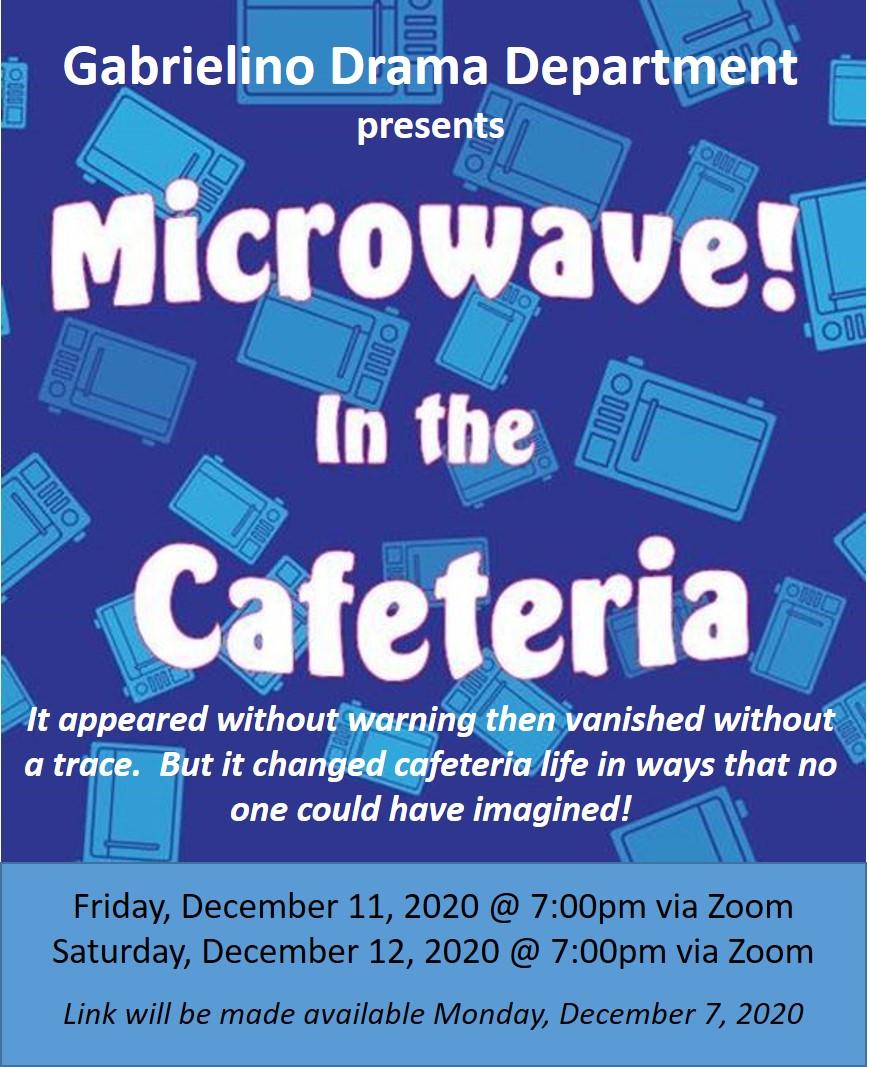 Gabrielino High School's Drama department will perform its first ever virtual play, "Microwave in the Cafeteria," live on Zoom Dec. 11 and 12. A recorded version of the play will also be streamed via the school website on Dec. 13.
Since the COVID-19 pandemic continues to keep students at home, drama teacher JC Gafford decided to create and perform the fall play virtually, choosing "Microwave in the Cafeteria" because it was written to be performed either live or online. Told through a series of monologues, the comedy allows for as few as one or as many as 18 actors.
Written by Bradley Walton, the story is set in a school cafeteria where a mysterious microwave appears out of nowhere. The following day, the microwave suddenly vanishes, leaving questions unanswered, and cafeteria life forever changed.
Junior Gabriel Frank-McPheter is composing original music for the play. Because one of the characters ponders the possibility of the microwave originating in ancient Egypt, Frank-McPheter decided to "compose something in the phrygian dominant scale since it's heavily associated with Egyptian-sounding music."
Frank-McPheter explained, "I showed JC what I had come up with as an idea. He liked it, so from there I started fleshing something out for a string orchestra because he said that's the instrumentation he wanted."
Students from all grade levels, as well as three faculty members – Marguerita Drew, David Pitts and Joseph Salcedo – and Student Center clerk Kevin Weir, will be performing in the production. Assistant Principal Nicholas Genisauski is working with Gafford on budgets and logistics for streaming.
"The play will rehearse and perform virtually," stated Gafford, who will direct the production. "I am excited about doing this show. I'm excited that the theatre arts department can and will stay on track with our tradition of producing season shows."
Written this year, "Microwave in the Cafeteria" is a contemporary piece in which characters are not given any specific gender or race. This flexibility allowed Gafford to complete the casting process by Nov. 19.
"The show is fun and light-hearted," stated Gafford. "I'm looking forward to a wonderful production once it's all said and done."