A tool to be treated with the utmost caution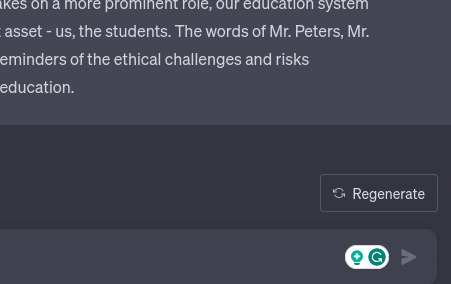 Scientific papers are considered by many to be the zenith of academic study and vigor. Consider then the paper "Revitalizing our earth: unleashing the power of green energy in soil remediation for a sustainable future." If you're thinking that such a title seems suspicious, you're not alone. But it turns out, even in this realm of academic excellence, there's an even more obvious tell. At the end of a section, in a scientific paper, appeared a phrase one wouldn't expect: "regenerate response." A smoking gun, if you will, of AI use. And you still have to pay to see the article.
   In an age where Artificial Intelligence (AI) is making inroads into our daily lives, people often find the technology both fascinating and, at times, a bit scary. Especially in the realm of education, where AI's influence is becoming increasingly prominent, there's a sense of trepidation in the air. The march of AI through our academic halls may very well be a cause for concern.
Bias and Discrimination:
   AI algorithms are only as fair as the data they're fed. If the data used in AI development is skewed or lacks diversity, the technology itself can perpetuate biases. This means that AI might unfairly judge students and discriminate against them, creating a learning environment filled with prejudice. Such prejudices have dominated the news surrounding other uses of AI
Scourge of Cheating:
   The rise of AI in education has revived a persistent menace: cheating. It's become easier than ever for students to take shortcuts. Mr. Doring, an English teacher, adds, "I've seen a student put a prompt into the AI and have it spit out an essay without any work of their own." When grades are often valued above everything else, why not use AI to finish that assignment when you're running late.
   Mr. Peters, an AP World History teacher, comments on this issue, saying, "The bulk of cheating comes from the APs and Honors classes who already get As without ChatGPT." The allure of AI to complete assignments effortlessly threatens to undermine academic integrity and devalues the hard-earned accomplishments of students who do their own work.
The Ethical Quandary of IP Protection:
   Amid the AI's surge, there's a pressing ethical concern regarding intellectual property (IP). Mrs. Strom, a science teacher, remarks, "It's going to get its information to write this story from someone else's work, so there's an ethical issue with citing it as your own because Chat GPT is using other people's work." The use of AI to generate content often involves repurposing information from various sources, making it essential for students to understand the importance of proper citation and avoiding plagiarism.  Mr. Peters candidly states, "The D/F rate won't change with AI. The people failing are too lazy to get their act together." 
The Challenge of AI Detection:
   As AI becomes more sophisticated, the ability to detect its influence in various academic works becomes a challenge. Is that eloquently written essay truly the product of a student's creativity, or is it a cleverly disguised AI creation?
   The lack of reliable AI detection tools makes it difficult to distinguish between genuine student work and content generated by AI. In response to the challenges posed by AI in education, Mr. Peters, an AP World History teacher, grimly states, "I don't know, Pandora's out of the box, the cat's out of the bag." Detection has not caught up
Loss of Humanity in Learning:
   Learning is not just about acquiring knowledge; it's also about personal growth, empathy, and relationships. AI can't replicate the warmth, mentorship, and guidance provided by teachers. An overreliance on technology threatens to strip away the humanity that makes education truly enriching.
   As high school students, it's crucial to be aware of these potential dangers as AI infiltrates our educational system. Let's ensure that, as AI takes on a more prominent role, our education system doesn't lose sight of its most important asset – us, the students. The words of Mr. Peters are stark reminders of what could happen if we don't, "it will lead to an overrated class of professionals with an underqualified education."
*This article was written by ChatGPT and was promoted to include quotes as well as edited by the staff writer
OpenAI. (2023). ChatGPT (September 25 Version) [Large language model]. https://chat.openai.com
The Immense Potential of AI  
   ChatGPT. Bing Chat. Google Bard. Revolutionary new friends of not just the student but everyone in modern society. In less than six months, what many had scoffed as infeasible or outright detrimental technology, chatbots like ChatGPT, have made themselves known in education. And they promise to completely change the game.
   "I think AI, it's here, it's here and it's coming", commented English teacher Justin Doring. "I think it's going to be groundbreaking. I think in many ways [it will] help humanity and help people do a lot of great things that would take trillions of man hours to do".
   The boundless possibilities of AI are nothing short of extraordinary. Essay prewriting, abundant brainstorming, and the ability to explain nearly any topic on the planet represent only a few of the things an excellent chatbot can do. As Joe Marquez told Gabrielino teachers at a meeting for the AI Leadership Team, it is a "Promethean moment".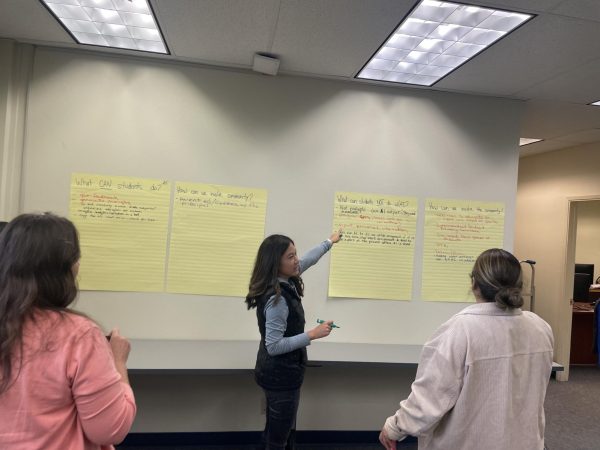 A compelling part of AI is its ability to revise and check human work. It can act as an editor and reviewer when no one else can. Students can enter their works into ChatGPT and, provided they've given it appropriate criteria, the chatbot can make the writing better across various conventions.
   Ironically, the staff of the Tongva Times itself now fully utilizes the power of such generative tools to enhance and revise the articles written every month.
   Even detrimental aspects of the technology lead to insightful moments. MIT Technology reports that even the various biases unfortunately present in AI can become a learning opportunity by pointing them out. The fact that the technology isn't perfect forces students to think about the results they get.
   Yet the biggest obstacle to the implementation of AI may be student awareness. A survey by the Walton Family Association found that among 1,000 teachers and students, while one-half of teachers reported using the technology, only one-third of students did. In a survey conducted from Oct. 9 – 16 asking if Gabrielino students used ChatGPT, only one-fourth answered yes. Students simply aren't aware of the technology.
   Yet its usage has extended far beyond the classroom. AI has been increasingly incorporated into search engines and a wide breadth of applications over the past decade. But search anything up on Google or Bing and one will now be greeted with an option for "generative AI". With the advent of ChatGPT, Texas Monthly reports that one pastor attempted to create a series of sermons to see how the technology would fare.
   Effective use of this technology will define a new generation of professionals and workers, which is why Chanda Strom, science department, is incorporating the technology into her class. 
   "It's really important that students know how to use the AI", Strom emphasized. "If you're good at prompt writing […] then you're going to be able to use that as something that you will be able to use on your resume for a job later."
   Despite concerns that it will trivialize any school assignment, Strom expounded on the need to correctly prompt and ask AI to get what a student wants. Even identical prompts will generate different things, so a key skill becomes what to ask for and even after that, properly sifting through everything the AI creates.
   The example Strom gave was creating a children's story. One could have the AI write the story, but as long as the student is contributing all of the information, it still shows their effort work. AI can change and synthesize information, but that's based only on as much information as it is given.
   In fact, during the process of getting ChatGPT to write the opposing side for this editorial, numerous roadblocks emerged. There is simply no single prompt to make ChatGPT write a fully featured article with quotes, sources, and proper research, and at times the technology can still be quite frustrating.
   But that just means it's all the more rewarding for a student who can properly navigate ChatGPT, which AI can't actually help with.