By Sophia Pu | Staff Writer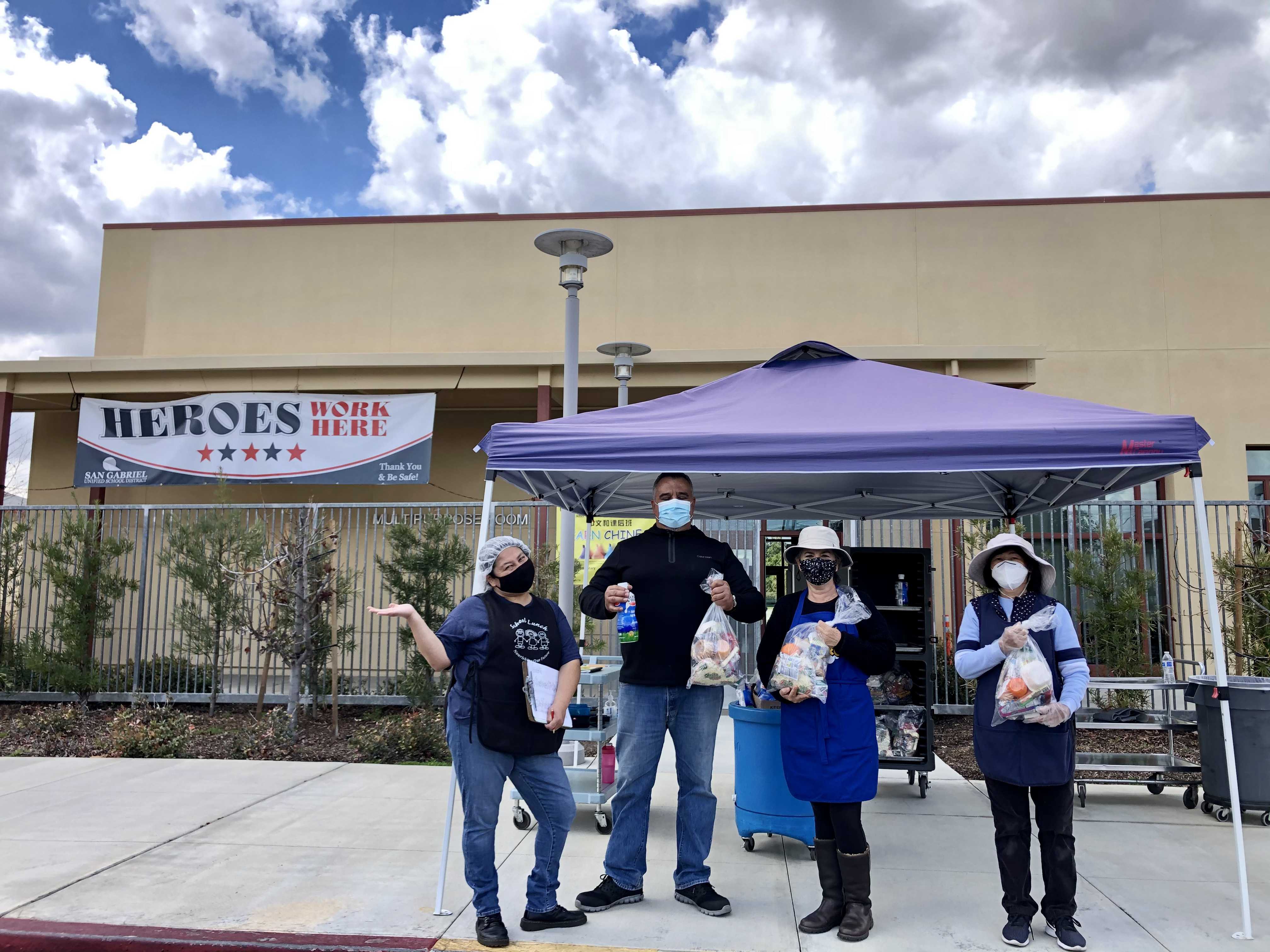 It is 11 a.m. on a Wednesday and a line of cars fills the McKinley Elementary parking lot. Mexican music plays. Three ladies wearing aprons and hairnets are busy under a purple tent.
Leticia Andrade has a clipboard in hand, smiling beneath her mask as she jots the name and number of a student. The two other women retrieve plastic bags of food from a gray refrigerator on wheels, handing lunches to families and making friendly conversation.
"We try not to make it boring," says Andrade. "At the beginning, when we start, time flies. There's usually a line of parents who come early, so we're always busy handing out food and talking to parents."
Since the early days of the pandemic, San Gabriel's Nutrition Services program has been distributing free breakfasts and lunches to students in need every weekday, from 11 a.m. to 12:30 p.m. There are pickup sites at every San Gabriel Unified elementary school.
In a memo sent out to district employees, Superintendent Jim Symonds announced, "Our Food Services division has served over 350,000 grab-and-go meals since March 2020, an astounding number and a testament to the dedication of our Food Services Staff."
Many students are familiar with school lunches and lunch ladies, but with the coronavirus closing schools, the Nutrition Service program has had to make some changes.
Nanci Leaños, accounting clerk for the program, explains, "We went from serving in the cafeteria to serving curbside. Each and every one of us has made efforts to ensure the safety of students and staff during meal service."
Outdoor service is not the only change caused by COVID-19. Statistics from Feeding America show an increase of 271,290 children who were food insecure in Los Angeles County in 2020, largely due to heightened levels of unemployment in the pandemic.
"Many families experienced changes this past year, and the Nutrition Service Team has tried to provide as much stability and normalcy as possible," Leaños states.
That stability and normalcy is critical especially for low-income families, many of whom lost jobs and are struggling to pay bills. United States Census Bureau data shows 12.8 percent of San Gabriel's population lives in poverty. Having free school meals gives those families one less thing to worry about.
Food Research and Action Center (FRAC) reports that healthy school lunches reduce food insecurity by at least 3.8 percent, and reduce childhood obesity by at least 17 percent. Studies also show lack of access to nutritious meals causes severe developmental, emotional, and behavioral issues, as well as negative mental health effects.
Because the people who participate in the free food program are struggling from the effects of the pandemic, the nutrition workers at McKinley Elementary School do their best to brighten people's lives.
"We form relationships with the people that come by," says Andrade with a smile.
She described some of the interactions she has had with parents and students, asking how they are doing and inviting them to dance.
"There's this older Asian woman who always walks up, and one day we asked her to dance to the music with us. She just smiled and did like this," Andrade laughs, doing a little shimmy.
For many members of the Nutrition Service team, being able to help others is the highlight of their job.
"I grew up benefiting from a free lunch program and summer meals as a student," Leaños says. "It is now very rewarding to be in a position where I can help the next generations."