On Sunday, Gabrielino High School hosted their Homecoming Dance with the theme of Gabrielino's Yule Ball from "Harry Potter". The event was from 7 to 11 p.m. in Gabrielino's quad and cafeteria area.
   Students spent most of the night on the dance floor, jumping and dancing to upbeat pop, hip hop, and latin songs, as well as slow R&B music. In the middle of the event, activities were paused as the Homecoming court was invited to the front of the dance floor and senior Maddox Hoa was crowned Homecoming King. 
   "I just wanted to do it for fun, for a memory," Hoa said with a smile. "I got a great memory out of this right now."
   The customary dance between King and Queen followed, with Hoa and senior Ashley Lau, the Homecoming Queen, slow dancing to "Perfect" by Ed Sheeran.
   "I didn't have any idea how to dance a slow dance," Hoa admitted. "We started running out of moves really fast, we just started going back and forth."
   Aside from the dance floor, ASB decorated the campus with string lights and "Harry Potter" themed posters, props, and photo backdrops. Also present was an official photographer, Chano's catering, and complimentary snacks and water.
   Lau was crowned Homecoming Queen the Friday prior, at the Homecoming Showcase, by alumni Rachel Young, the 2022 Homecoming Queen. The announcement was followed by a fireworks display.
   "It feels kinda surreal because I'm back here, in my whole homecoming outfit again, and I see a lot of familiar faces," described Young. "It feels like coming back home, because […] I'm seeing a lot of people who I consider to be my family."
   Before the Queen was revealed, all members of the court were escorted in pairs on a white horse drawn carriage. Accompanied by their parents, the court walked through an inflatable "Harry Potter" castle, across a red carpet, and onto the risers. 
   "It was really good to be up on that stage and represent all that I do with Speech and ASB," Lau stated. "I feel noticed and seen that all these people that I met through all these extracurriculars, that they chose me to represent them."
   The Showcase began with a performance by the Gabrielino Eagle Marching Regiment (GEMR), led by drum major Joshua Soohoo, senior.
   "[To prepare] we come in here starting at 7:30 sharp […] and afterschool we usually go from 4:30-8:30," Soohoo shared. "The best part is getting to listen to the whole band while you're up on the podium, because when you're on the podium, you have the best view."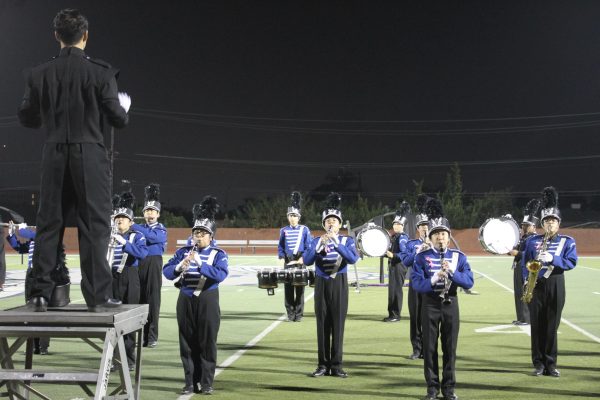 GEMR's performance was followed by a Halloween-esque routine by Winter Guard. The show began with spooky, twinkling music where the dancers utilized black flags, before crescendoing into a more intense choreography using purple flags.
   "We've been preparing this since the last day of July," stated junior Rheanna Beltran. "I just love marching season and being able to bond with everyone. We have more than half of our competitions in the next couple of weeks, which is something I'm nervous about but also excited for."
   Beltran was also the Junior Princess on the Homecoming Court.
   "It was very hectic, especially having to perform," laughed Beltran. "I had to hurry up and run barefoot onto the field, but it was really fun and they made me feel special."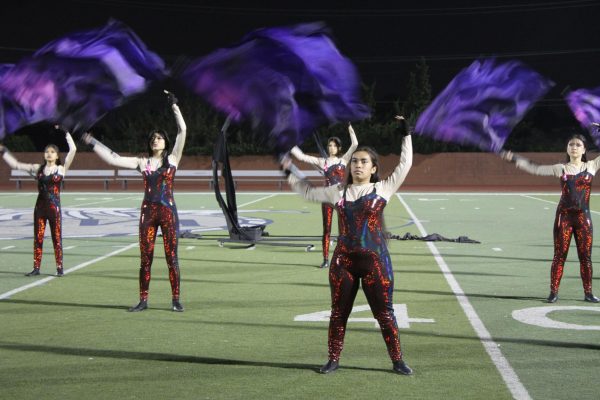 Friday's festivities were adapted from the halftime show ASB planned for the Homecoming football game, which was canceled on the Wednesday before. 
   "We felt like it wasn't going to be big enough, so we added a few things that we thought people would like," shared senior Katie Dang, one of ASB's Commissioners of School Spirit. "On ASB's part, it went really smooth[ly]."
   At lunchtime the same day, ASB also held the Homecoming Pep Rally and Senior Parade, where seniors wore decorated crowns and marched around the quad. The Pep Rally featured a Cheer performance to "Bang Bang"  by Jessie J, Ariana Grande, and Nicki Minaj, as well as a game of musical chairs won by senior Aida Lopez. GEMR ended the event by leading seniors in "The Shake".
   Preceding Friday's lunchtime rally was the Homecoming Spirit Week. Monday was Patronus Day, with students in pajamas alongside their stuffed animals. Tuesday was House Color Day, where freshmen, sophomores, juniors, and seniors wore green, blue, red, and black respectively.
   "The most fun part was matching with my friends and taking a picture everyday for the memories," described senior Michelle Yu, who participated in every day of Spirit Week. "It's our senior year and I wanna go all out."
   Wednesday showcased college merchandise, while Thursday was Invisibility Cloak, with camo print outfits, and Friday was Dolores Day, for students to wear all pink.
   "With this [spirit] week, we've definitely gone with a more simple approach," Dang explained. "I would rather take more people participating than fewer people [participating but] going crazy."
   The Homecoming Court was announced on Oct. 13. Katelyn Tan, Kaito Gonzales, Natalie Park, Cedric Hua, Beltran, and Landen Nguyen were the freshman, sophomore, and junior princesses and princes respectively. The senior princesses were Wei-Ling Chen, Kate Hamamoto, Brianna Huynh, and Bryanna Quach, while the princes were Alex Hoe, Vincent Fritzche, Nathan Truong, and Canice Wong.