10:
KAI KAI
Octoberfest dumplings were bratwurst stuffed, a great representation of a hot dog. A hot dog without a bun, if we are being specific. Personally, I'm not a fan. 3/10.
9: Ajinomoto Dumplings were frozen. Conflicting with some testers simply because many other vendors had been hand-making their dumplings at the event. 5/10.
8: MAD Dumplings Mac n Cheese dumplings, unfortunately, did not meet testers' expectations. The hopes were high, and they were not met due to the lack of cheese. 6/10.
7: Dinas Dumplings Pork dumplings were simpler, just regular pork dumplings. 6/10.
6:  Ajinomoto's Pork dumplings had more spices, making you want more but pork dumplings seem minimalistic in a dumpling and beer festival. 7/10.
5. MAD Dumplings Pork and Chives dumplings were very minimalistic. The flavors were decent, but the chives did not stand out. 7/10.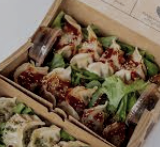 4: Dinas Dumplings and Manduyo Beef dumplings both received the same rating, although Manduyo's gave a sweeter impression. 8/10.
3: MAD Dumplings Fried chicken dumplings gave the tester an unexpected juicy surprise, where the dumplings truly tasted like fried chicken! 8/10.
2. Manduyo Spicy pork dumplings separated themselves from the rest with a big hit of spice that was surprisingly not too overpowering, more smoky but not numbing. 9/10.
1. KAI KAI Holiday dumplings were stuffed with turkey and delicately drizzled with cranberry sauce, invoking bursts of flavors that spark memories of Thanksgiving. Even though the taste was not as equal as Manduyo's, the unexpected joy that came when biting into the dumpling with the hint of cranberry sauce topped every other dumpling for the night. 8/10.