By Brian Ly | Staff Writer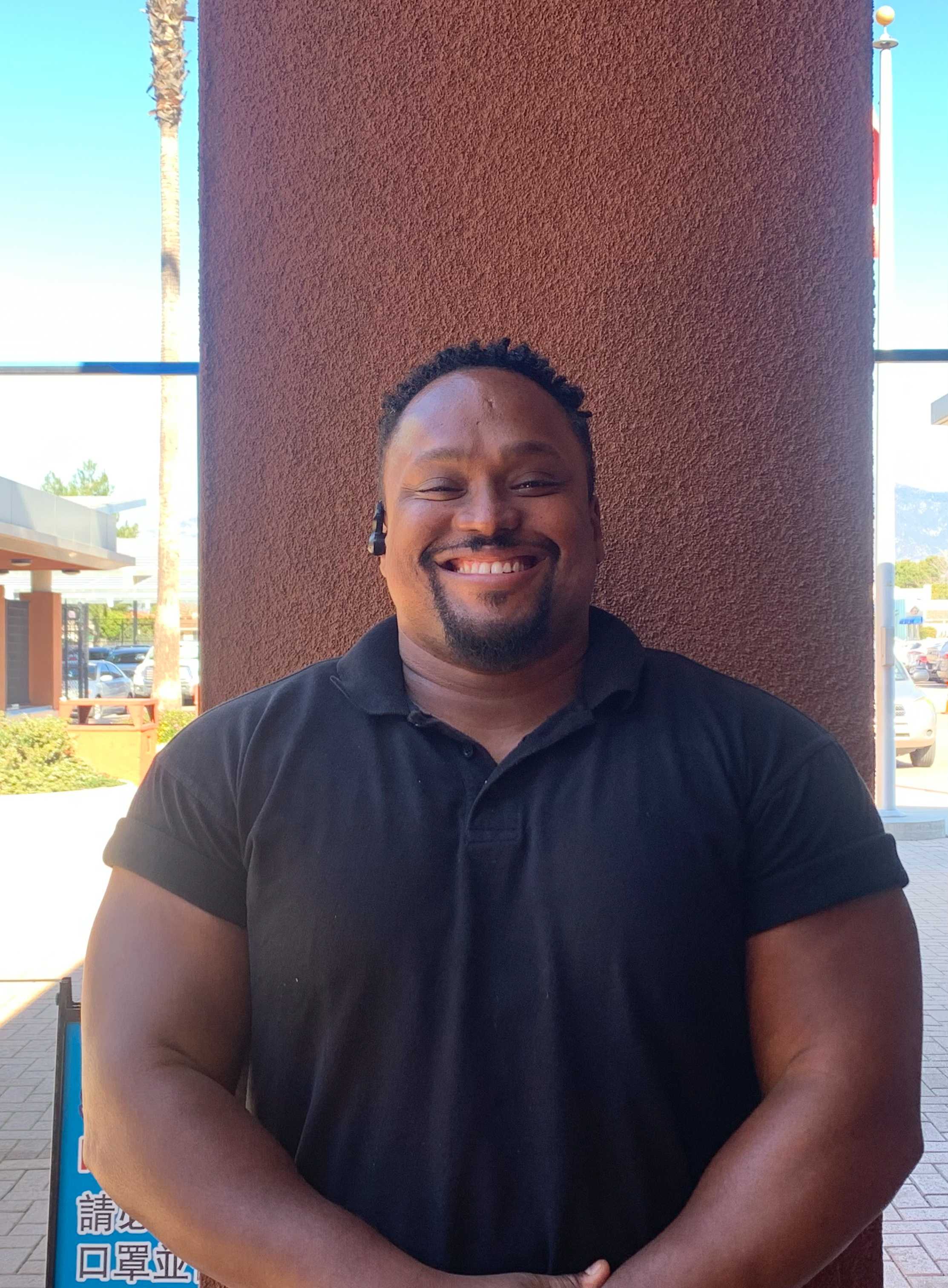 To Randell McNair, his work at Gabrielino High School was always more than just a job. It was a calling that he fulfilled until the end of his life.
  Last Friday, McNair's ashes were laid to rest at sea , although the  Gabrielino community has been in mourning since his death from a heart attack in July.
   McNair served as a campus supervisor and security guard from 2009 until his unexpected passing. During those 13 years at Gabrielino, McNair gave his entire being to the community he sought to better. His contributions are deeply rooted in his relationships with people and, while there are few words that can truly encapsulate McNair's character, it is his dedication to others that remains a constant.
  "He'd always tell me 'kids need a second chance. That's what is missing. That's why they're hurt,'" Randell's wife Arica McNair fondly recalled. "He worked for the kids, He was an advocate for them."
   Despite his towering frame, those who approached Randell often quickly came to the realization that he wasn't intimidating at all, but rather that he was a loving and kind man who put others before himself. His upright character was another constant in his dedication to the community, which Randell viewed akin to a second family. Mentoring and advising students who needed guidance, he was a father figure to many as he sought to help kids overcome their problems and build them back up as the better person he knew they could be. 
   "Randell saw the community representative of love and family," Arica emphasized. "He was always family-oriented; it was everything to him. He was an amazing father. The relationship he had with his kids was phenomenal, and [with] the kids at Gab, too." 
   Randell's insistence on not holding grudges and instead having forgiveness for others stood out to those around him. He made the campus feel safe by making each new day free of any hard feelings. 
   "I worked with him very closely each day," security guard Wes Licher explained with a smile. "He called Gabrielino his Gotham. He'd wake up in the morning and tell his wife that it was time for him 'to go save Gotham,' like he was Batman. That's the way he was." 
   Randell felt that his job provided him a special opportunity to help others, to give the shirt off his own back to someone else if they needed it. Working closely with staff and students alike, he was able to act on what he viewed as his calling. 
  "A lot of people didn't look at the bigger picture," explained Assistant Principal Vince Lopez with a smile. "Because if you see this big, burly guy, you often think he's a musclehead or a jock. But […] people appreciated [Randell] and weren't afraid to ask him for help." 
   Rather than being unapproachable, Randell sought to be welcoming and a positive influence for students and staff alike. Often, it was hard to tell if he was having a rough day because of his inclination to press forward and focus on the positives, ensuring others were happy no matter what. 
   "He was invaluable. He was what you think of when you think of campus security," Lopez explained. "But when he started working here, we realized he was so much more. He was a counselor, he was a mentor, a leader. He was very involved."
   To many, Randell was one of the rocks that the community was built upon because of his involvement in the myriad of cultures present at Gabrielino. Always one to advocate for diversity, he acted as Gabrielino's first black Santa Claus in previous years.
   "He was very aware of the cultures at Gab, about things happening in and out at school, because he cared for the students," Licher noted.
   Of Randell's many hobbies, his love for theater and performance shone in his participation in numerous drama department productions, including starring as Jim in "Big River," the musical adaption of "The Adventures of Huckleberry Finn" in 2016, to his most recent performance as Aeneas in "Myth-o-logues" last spring. 
   He was fearless in displaying his talent and further incorporated himself into a community already deeply fond of him. 
   "He was in theater for a long time," Arica said with a quiet laugh. "He was very talented […] he always loved performing, whether it was singing with his beautiful voice or acting in plays. He could sing to me all day, every day." 
   To Arica, Randell's love for Gabrielino was just one example of his unwavering dedication. His strongest devotion in life was to God, his family, and his and Arica's twenty loving years of marriage. Meeting originally as everlasting friends at the age of 13, the two faced their ups and downs inseparably together. 
   "It's hard, but it's a comfort," Arica explained, her words shaky with emotion as she expressed her love for her husband. "Knowing that I can talk about him, that I know he is loved. We grew up together; he was my best friend before he was my soulmate […]. I can count the number of times we slept apart on one hand."
   Randell's passing continues to be painful for those who knew and loved him. But his unforgettable legacy will live on as a shining example of dedicating one's life to others. His generosity will remain immortalized in the very people he led and showed new opportunities to.   
   "A rabbi once asked me if I would have wanted to live with a person I knew I only had twenty years with," Arica remarked in a soft whisper. 
   "Thinking about the tragedy at first, I didn't want it to happen, and I almost said 'no' […]. But I think about all the past years and I know my answer would be 'yes.' I would do it all over again. Every single second with Randell was worth everything to me."